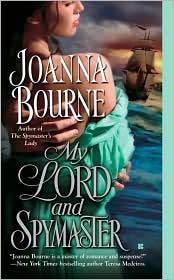 Title:
My Lord and Spymaster
Author:
Joanna Bourne
Publishing Date:
July 2008
Genre:
Historical
Rating:
A-
Sensuality:
Warm
Jess Whitby's father has been arrested by the British Government and is accused of being the spy known as Cinq, who has been passing secrets to the French. Jess knows that her father isn't the most honest of men, but he is not a traitor. She must find the real Cinq and hand him over to the British Government before they hang her father. Through a few leads, Jess believes that Captain Sebastian Kennett could be the spy Cinq. She sets up to ambush him in the allies off of the docks. Only things don't go according to plan and she ends up under attack and Kennett manages rescues her.
I just love, love, loved this book! I have decided that Joanna Bourne is my new favorite author. I think the greatest thing about this book is the amount of depth the characters have. From Jess and Kenneth, to the secondary characters of Adrian and Doyle (who we met in
The Spymaster's Lady
) and a new character Lazareth the king of thieves, Ms. Bourne breathes life into the story. Even Jess's pet ferret, Kedger was a lovely addition.
Captain Kennett reminds me of a typical Linda Howard hero. Once he lays eyes on Jess and decides he wants her, nothing will stand in his way of getting what he wants. He just barrels his way into her good graces, knowing that he will make her his woman. He is very protective of those that he loves and will do anything he has to, to protect what is his, no matter how distasteful. He tows the line between good and bad. He is a good man, but he sometimes does bad things.
Jess was just as enjoyable. There are two sides to Jess. One side is very naïve, sweet and fragile and the other is very determined and stubborn. She is constantly jumping into risky situations without regard for the consequences. It's a good thing for her that Kennett is so protective and is willing to go great lengths to get her out of these scrapes she keeps finding herself in.
I really enjoyed this story. My only complaint is that I wish there could have been more love scenes. I mean Kennett kept talking about how he was going to make her his, and yet he doesn't until the very end of the story. Now, that I look back on it though, I find that is part of the charm of the story. I can't wait to see what Bourne comes up with next. I really hope it involves Adrian.
Here is what others had to say:
The Thrillionth Page
Dear Author
A Hoyden's Look at Literature
Errant Dreams Reviews
The Book Smugglers
The Good, The Bad, The Unread