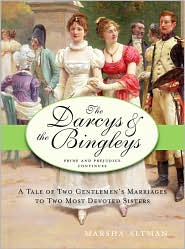 Title:
The Darcys and the Bingleys
Author:
Marsha Altman
Publishing Date:
September 2008
Genre:
Historical
Rating:
B-
Sensuality:
Kisses
The Darcys and the Bingleys
picks up where
Pride and Prejudice
left off. It is divided into two parts. Part one basically reads like one long epilogue of
Pride and Prejudice
beginning with a dual wedding of Darcy to Elizabeth and Bingley to Jane. Part two is another story that centers around Caroline Bingley's engagement and the Darcys' and the Bingleys' involvement in it. I feel that readers who haven't read
Pride and Prejudice
will feel lost without having read it first. Ms. Altman assumes that the reader is already familiar with these characters. I, myself, read
Pride and Prejudice
a couple of years ago and at times I found myself racking my brain trying to remember a certain character and how they were related to whom.
The first part of the book was a little boring. Not because it was bad writing, quite the contrary actually, it's just that there was very little conflict. It was almost too sweet and therefore little to hold my interest. Also, quite frequently a character would have a "remember when" moment and then the character would recount an event from the past. When book two began, things started to pick up speed and I found myself turning the pages faster. Actually, if it wasn't for the second part of the book, I would have found myself grading the story much lower.
For the most part I enjoyed Ms. Altman's writing style, most especially the conversations between characters. Darcy and Bingley's relationship is explored further in this book and it was definitely welcome. I liked the competition they had between each other. Ms. Altman also weaves subtle humor throughout the story that would leave me smiling at something Darcy or Elizabeth said. I felt like Ms Altman remained true to the characters as I remembered them. I would definitely recommend this book to fans of Jane Austin who are clamoring for more.
Here is what others had to say:
Bookfoolery and Babble
Jane Austen Today