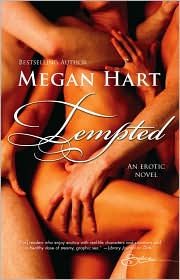 Title:
Tempted
Author:
Megan Hart
Publishing Date:
2008
Genre:
Contemporary (Erotic)
Rating:
B+
Sensuality:
Burning
I feel that
Tempted
is not classically a romance. I am going to let it fall in the category of women's fiction, because this is not a book just about Anne's relationship with her husband and best friend, but also her relationship with her parents and her three sisters, and also Anne's own emotional growth throughout the story.
Anne has been happily married to her husband James for six years now. She has heard stories from her husband about his best friend Alex, but never met him. Out of the blue Alex calls up James. His company in Singapore has been bought out and he is moving back to the states. He asks James if he can stay with him until he gets things settled. So Alex moves in for the summer. James, Alex and Anne form a relationship triangle. What starts out as a summer fling begins to have consequences no one predicted. It becomes complicated and tangled.
I was really surprised at the depth to this book. The author was not afraid to delve into the dark side of relationships. She was not afraid of making the reader uncomfortable with the choices the characters faced in her book. She did not shy away from it and that is what made this book so great. She touches on subjects that make most people uncomfortable such as jealousy, alcoholism, adultery and failure. But she was able to do it in a way that never felt preachy. She made the characters feel so genuine. People who you could relate to and empathize with; or at least I could.
There are no easy answers for these characters and things don't exactly fall magically into place. I do wish that there would have been more resolution between James, Anne and Alex at the end of the story. I wanted more confrontation and therefore a more definitive solution to every ones' problems. I guess I wanted everyone to have a happy ending, but it just can't work out that way and it doesn't. I really like Megan Hart's writing. I love that she broaches subjects that take the reader out of their comfort zone. I can't wait to see what she comes up with next.
Here is what others had to say:
The Happily Ever After...
The Good, The Bad, The Unread
Stacy's Place on Earth
Reading is Sexy