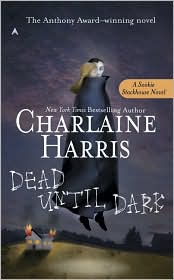 Title:
Dead until Dark
Author:
Charlaine Harris
Publishing Date:
2001
Genre:
Urban Fantasy
Rating:
B
Sensuality:
Warm
Dead until Dark
is the first book in Charlaine Harris's Southern Vampire series. It is narrated by Sookie Stackhouse, a waitress in a small Louisiana town, Bon Temps. Sookie is blonde and blue-eyed – a very pretty girl, but what really makes her stand out from the crowd is that she can hear others peoples thoughts. All her life she has struggled with this disability. She has never done well in school because she couldn't concentrate with the background noise of different thoughts coming from her schoolmates. She has never dated or had a physical relationship with the opposite sex because she can't keep up her guards when touching someone else.
Then one night, she meets a vampire, Bill and the strangest thing happens. She discovers that she can't hear his thoughts. It is breathtakingly quiet, even when she touches him and tries to listen intently to his mind. Sookie and Bill form a friendship when she saves him in the parking lot of the bar where she works. Then a local girl is found strangled and Sookie asks for Bill's help in finding the murderer.
I was really looking forward to starting this series. I had heard a lot of really good things about it. When I first started reading the book, I almost didn't like Sookie. It took me a few chapters to warm up to her narration. I can't put my finger on the exact reason for my dislike. I really shouldn't call it dislike, because that's not accurate either. Maybe it's was more of a feeling that I couldn't relate to her. As the story unfolded this changed though and Sookie really began to grow on me.
One of the strengths of this book was the way in which Harris slowly provides the reader with background information on the vampires and their culture. There are never any large info dumps. The reader gets their information right along with Sookie as she discovers it. I think that is the advantage to stories told in the first person narrative. I enjoyed the mystery and the slow unveiling of how things work with the vampires. I enjoyed Bill and Sookie's relationship, especially when Bill would come across as "Old World". There is one scene in particular when he tries to explain to Sookie why he wants to protect her. I thought that was quite sweet. Although, I was surprised how quickly Bill and Sookie exchanged
I love yous
. That felt a little rushed and not quite sincere.
There is also a large cast of characters and they are all interesting and add to the charm of the story. I especially liked Sam, Sookie's boss at the bar and her Grandmother.
One minor gripe I had with the story is Sookie always crying. It makes her human and vulnerable, but it seemed like it happened a little too often. I can understand why though. I was a little shocked at all the bad stuff that Sookie went through. I definitely like the world Harris has created. I can't wait to continue on with this series.
Here is what others had to say:
The Book Smugglers
Avid Book Reader