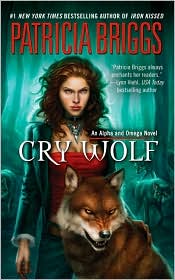 Title:
Cry Wolf
Author:
Patricia Briggs
Publication Date:
2008
Genre:
Paranormal
Rating:
B
Sensuality:
Warm
Cry Wolf
is the first novel in Patrica Briggs new werewolf series. She released the short story
Alpha and the Omega
in the anthology
On the Prowl
earlier this year, which first introduces readers to Anna. Charles however first appeared on the paper in Brigg's well known Mercy Thompson series. Charles is the son of Bran who is the North American merek. This means that Bran is in charge of all the wolves in North America. Charles is his hitman. He was sent to Chicago to deal with some problems that arose in that pack. On his assignment he meets Anna. Right away his brother wolf accepts Anna for his mate. Anna, however, is less trusting of Charles because she was turned against her will and has been abused by her former packmates. To say she has trust issues is an understatement. Charles convinces Anna to return with him to his home in the mountains in Montana.
I think it is essential for readers to read the short story before reading
Cry Wolf
. I felt that
Alpha and Omega
was nothing more than the first couple of chapters from
Cry Wolf
. Fortunately for readers who do not want to buy the anthology, Patricia Briggs is selling her short story online in electronic format. You can visit her website for more information.
The major strength of
Cry Wolf
is in the characters. All of them were well developed and had likable personalities. I think the reader will gravitate toward Anna who is struggling with coming into her own again after suffering for so long. She has to learn a whole new way of life and learn what being an Omega means. She has to learn that her new pack has completely different expectations from her than her former one did. Charles was true hero material. He was patient and protective and just completely cherished Anna. Who wouldn't want this type of man to call their own?
I just found the pack dynamics fascinating. I loved how all the wolves interacted with one another and seeing how they all fit together. Briggs does a nice job of introducing new members of the pack without overloading the reader. All of them were distinct and interesting to read about.
The main issue I had with the book was I wanted more romance between Charles and Anna and less of the mystery portion of the book. I didn't feel like Charles and Anna had fully worked out all the problems they were facing with their relationship. Those problems were mainly Anna's past abuse at the hands of her former pack and her coming to trust Charles. It makes me wonder if later books in the series will still be dealing with Charles and Anna or if they will be about other pack members. Either way, I will be anxious to read more.
Here is what others had to say:
The Good, The Bad, The Unread
Books and Other Thoughts
LesleyW's Book Nook
Romance Novel TV
Scooper Speaks