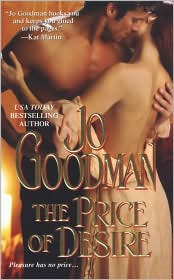 Title:
The Price of Desire
Author:
Jo Goodman
Publishing Date:
2008
Genre:
Historical
Rating:
B+
Sensuality:
Hot
Olivia Cole has been given to Griffin Wright-Jones, Viscount Breckenridge as a marker from her brother. Olivia's younger brother Alistair was gambling in Breckenridge's establishment and lost a large sum of money. While Alistair is trying to find the money, he gives his sister over to Cole to show his good intensions. Olivia, being the stoic character that she is, resigns herself to do her duty to her brother and accepts her situation.
Olivia is estranged from her family except for her brother. The reader does not know the reason for the estrangement at the beginning of the story. It is also obvious to the reader that she has suffered some form of abuse in her past. Griffin quickly catches on that there is more to Olivia than meets the eye. Olivia is as tight lipped as can be, but Griffin is persistent and wants to get to the bottom of her secrets. Griffin is highly intrigued by Olivia. His past relationships with women have been less than stellar and he has secrets of his own. Eventually, Griffin lays enough trust in Olivia to share his past and slowly Olivia reveals glimpses into hers.
Griffin is a great hero. Olivia arouses all of his protective instincts. Even though he has had bad relationships with women he never once doubts Olivia's sincerity. That was one of the things I liked most. Even when other people were trying to twist the truth around he never once believed them. He knew Olivia was exactly was what she said she was and there was never any "big misunderstanding". I will say though, that there was still quite a bit of drama to this story. Of course, I enjoy that sort of thing, but whoa, there were quite a number of villains to protect Olivia from. Griffin had his hands full with that, but he was quite the MAN and could handle it!
Another aspect of the story that I liked is that Griffin and Olivia spend a lot of time together talking about things. I enjoyed that the lead characters spent so much time together and that the plot centered around them, instead of the characters supporting the plot. Because they spent so much time together I could believe in their love for each other and that they have a relationship that will last.
Here is what others had to say:
Dear Author