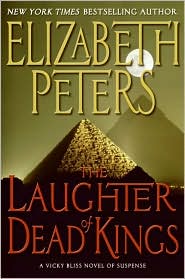 Title:
The Laughter of Dead Kings
Author:
Elizabeth Peters
Publishing Date:
August 2008
Genre:
Mystery
Rating:
B-
Sensuality:
Kisses
Vicky Bliss is back.
The Laughter of Dead Kings
is the sixth book in the Vicky Bliss series. Vicky and her beau John Tregarth find themselves swept back into another mystery involving the theft of Tutankhamon's mummy. Their good friend Feisel, whom readers met in
Night Train to Memphis
(book 5), comes to John because he suspects that John had something to do with the theft or knows the persons that did. Feisel wants to keep the news of the missing mummy quiet and out of the public eye. He enlists the help of John and Vicky to help him find the mummy.
The first Vicky Bliss book was written in present day 1973.
The laughter of Dead Kings
is written in present day 2008. As you can see 35 years has past between these books and yet Vicky has aged only a few years. This is the problem with books spanning such a wide range of time. Not only does technology change, but attitudes and ideas do as well. Vicky in the first book came across as a modern woman who was a bit of a feminist. Now immerse that same woman in modern day 2008 and she comes across as a little old fashioned. Now, I am not necessarily saying this is a bad thing. It's just that the speech and mannerisms of the characters are more suited for a book written 30 years ago than today.
After taking into consideration the differences of time, I felt like I was revisiting with old friends. It was nice to see the whole gang again, most notably Vicky, John and Schmidt. The mystery was in typical Elizabeth Peter's style. It wasn't too terrible intricate, but it was enough to hold my attention. It seems to me this book was written for fans as closure to Vicky and John's relationship and also to appease those fans who were clamoring for one more story. I think Peters accomplished those goals with mediocre aplomb. For those readers who haven't read a Vicky Bliss mystery before, I don't recommend starting with this one. Instead try
Borrower of the Night
, the first Vicky Bliss book.
Here is what others had to say:
The Good, The Bad, The Unread
A Hoyden's Look at Literature