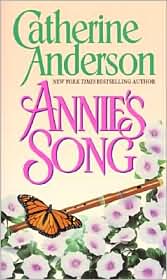 Title:
Annie's Song
Author:
Catherine Anderson
Publishing Date:
1996
Genre:
Western
Rating:
A
Sensuality:
Hot
Oh my goodness! This book was absolutely fantastic. I was completely touched and enthralled with
Annie's Song
. I could not turn the pages fast enough with this amazing story.
Annie Tremble is thought of as the "local idiot". When she was six years old she suffered a fever and was never the same after it. What people mistake for madness is actually a loss of hearing. Annie is out in the woods when a group of young men come across her. The leader of the group Douglas Montgomery is drunk at the time. He is a mean son of a bitch and he rapes her. One of men in the group rats out Douglas to his brother Alex. Alex is completely shocked and appalled at his brother's despicable behavior and kicks his brother out of the house. Alex then proceeds to go to Annie's father and make amends. It comes to light a few months later that Annie is pregnant. Alex decides that the right thing to do is for him to marry Annie and claim the child as his own.
This story is full of emotion. Annie is completely misunderstood by everyone. She is the epitome of loneliness, unable to communicate with others and shunned by society at large. The only interaction she has had with people in her life is her immediate family. Even her own mother, at times, comes across as cruel and ignorant of Annie's needs. It's not until halfway into the story that the reader is given a reason for this. All the characters are multifaceted. It would have been very easy to hate Annie's mom, but she is a complicated woman who made mistakes. She is after all only human and did what she thought was best at the time. I felt compelled to forgive her right along with Alex.
Annie is very innocent and child-like. Anderson does a very good job of showing Annie's evolution from a scared young girl to a mature woman who knows what she wants out of life. Annie's changes stem from her involvement with Alex Montgomery. Alex is an absolutely amazing man. Oh, wow. I just loved him. At first he stumbles with Annie. He is not really sure how to deal with her or how to handle the situation he finds himself in. Slowly though, he begins to see that Annie is smart and understands cognitive reasoning. When he discovers that Annie is deaf, I was moved to tears. That was just an absolutely amazing scene in the book; one of many. Then what he does for her, well, I can't tell you. You will have to read it for yourself. But trust me, he just blew me away.
This book was just freaking fabulous. The depth of emotion Anderson was able to convey was bone deep. I can't say enough about this book. I don't know why I haven't ever read anything by Catherine Anderson before. I will definitely be remedying that situation.
Here is what others had to say:
World According to Books