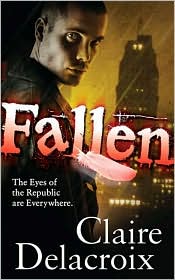 Title:
Fallen
Author:
Claire Delacroix
Publishing Date:
October 2008
Genre:
Futuristic
Rating:
B+
Sensuality:
Warm
Fallen
is the first book in a new trilogy by Claire Delacroix. It is set in a post apocalyptic America in 2099, several years after many cities were bombed with nuclear weapons. A large portion of the world's population was killed because of these bombs. Another side effect of these bombs was nuclear radiation. The majority of the population was exposed to this radiation causing birth defects in unborn children. People who have side effects due to the radiation are known as shades. They are not considered human and do not have civil rights. They are used for research and slavery. Lilia Desjardins is a shade hunter. She finds shades and brings them to the circus where she works. The circus is the one place where the shades can live a relatively normal life.
Lilia's estranged husband is killed in a mysterious accident. She suspects that his death was not an accident, but murder. She is convinced that she must uncover the killer and bring the truth about her husband's murder to light. Lilia has a penchant for finding trouble. When she discovers a body of a shade who had connections to her husband, she reports it to the authorities. She meets Officer Adam Montgomery and together they search for her husband's killer. Unbeknownst to Lilia, Adam is an Angel who has volunteered to help save humanity. Besides the fact that he is attracted to Lilia, he also believes that she will help him complete his earthly mission.
I just have to say, I really enjoyed this book. There is a lot of emphasis on the futuristic world and how corrupt it has become. The details are very tight and well defined. The book has a very dark vibe to it, and yet there is a tiny ray of light and hope at the center of everything. The characters Adam and Lilia are wonderfully drawn. Lilia is a bleeding heart. She might act tough and gruff, but underneath that steely façade she's as soft as a marshmallow. Adam is otherworldly and is beginning to understand the appeal of being human. He becomes attached to earth and Lilia and this comes as a complete surprise to him.
Fallen
ends more or less with a 'happy for now'. There are conflicts that still need to be resolved with the big picture. The mystery surrounding Lilia's husband's death does get wrapped up. The next book in the trilogy will be
Guardian
. It won't be out until October 2009 and features new characters Delilia and Rafe. Ms. Delacroix does state that Lilia and Adam will make an appearance in
Guardian
.
Here is what others had to say:
SciFiGuy.Ca
Scooper Speaks