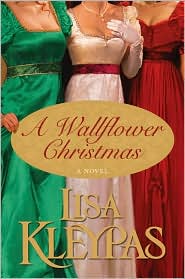 Title:
A Wallflower Christmas
Author:
Lisa Kleypas
Publishing Date:
October 2008
Genre:
Historical
Rating:
C
Sensuality:
Warm
Rafe Bowman is the son of a very wealthy American man, who as aspirations of seeing his son wed to a woman of the British Aristocracy. He stipulates that in order for Rafe to inherit, he needs to marry Natalie Blandford. At first Rafe doesn't really care who he marries, so he might as well please his father. But while visiting his sister in England, he meets Natalie's companion Hannah and finds himself unexpectedly attracted to her. Now he is torn between choosing between true love or his inheritance.
For me this book is too short weighing in at only 200 pages. It is also a hardback, therefore doubling the price of the book. As far as Rafe and Hannah's romance is concerned, it was just okay. There wasn't anything spectacular about it. It wasn't bad per say, just ordinary. I liked Hannah a lot. She was a great character, and I wouldn't have minded getting to know her better. Rafe, on the other hand came across a little heavy handed with Hannah. He seemed a little too pushy in the short span of time that he knew Hannah.
Rafe is the brother of Lillian and Daisy Bowman who readers met in
It Happened One Autumn
and
Scandal in Spring
. Fans of the Wallflower series will have fun revisiting with the characters from that series. Lillian, Daisy, Evie and Annabelle, along with their respective husbands all make an appearance in this book. That aspect of the book was the best part.
Here is what others had to say:
A Blog of Books
Lurv A La Mode
Dev's Good Reads
Babbling about Books, and More
The Book Smugglers
The Good, The Bad, The Unread
Dear Author