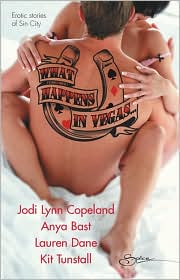 Title:
What Happens in Vegas
Publishing Date:
2008
Genre:
Contemporary (Erotic)
Sensuality:
Burning
What Happens in Vegas
is an anthology that is composed of four novellas set in Las Vegas.
Title:
Hot For You
Author:
Jodi Lynn Copeland
Rating:
D
Carinna is a cocktail waitress at the Casino, The Liege. She has had feelings for her good friend Jack for as long as she can remember. Four months ago she and Jack had a night of passion. From that night forward their friendship has become stilted and weird. Carinna wants to for things to go back to the way they were before they had sex. Jack has other plans and wants to move forward.
Hot for You
was my least favorite story of the anthology. Carinna and Jack both alternate narrating the story. Much of their narration is spent lusting after each other. I didn't like Carinna or Jack, so that made it difficult for me to like their story. Both of these characters came across as very slutty. Carinna has commitment issues and likes her sex dirty. So she has been around the block a time or two. Some of the sex scenes in the book made me uncomfortable. One thing that really grossed me out was that both of these characters have been very promiscuous in their past, but neither one once had protected sex during this book.
Title:
Stripped
Author:
Lauren Dane
Rating:
B+
Dahlia is a burlesque dancer at an upscale club. The owner's brother Nash Emery sees Dahlia's performance and makes a pass at her. She puts him in his place with a seething cut down to let him know that she might be a dancer, but she is not a prostitute. Seeing there is a lot more to Dahlia than her bodacious body, he is intrigued by her. He devotes himself to getting into her good graces and wooing her.
Stripped
was probably the mildest story sexually of the bunch. Even though Dahlia is attracted to Nash she takes her time getting to know him. She isn't the type of girl to jump into bed with just anyone. She is afraid of getting hurt by Nash, who is known as a playboy. Nash is tired of the string of women who don't really know anything about him. He is lonely and wants somebody to know the "real" him. I liked both of these characters. Dahlia had a chip on her shoulder about Nash's rich background. That is the main conflict between them and one that they work out in this story. I like how Nash handled Dahlia's insecurities.
Title:
Red Handed
Author:
Kit Tunstall
Rating:
B-
Amy is caught cheating at roulette in Roan Cavello's casino. He has his security men escort her to his interrogation room. Eventually they strike a deal where Amy will pay off her debt to Roan by being his submissive mistress for six weeks.
Red Handed
started off badly, but then improved as the story went on. In the beginning it was a little creepy how Roan was attracted to Amy and vice versa. A large suspension of disbelief was needed. I found it hard to believe that Amy would find Roan attractive in her situation. Once I got past that, the story started to engross me and these two people seemed to fit well together. I liked seeing Roan who keeps very tight control of himself lose it when he finds Amy threatened by a client of his.
Title:
The Deal
Author:
Anya Bast
Rating:
B
Cassidy was stood up at the altar by her fiancé Damian a year ago. Since then, she has been good friends with James Carter and finding herself attracted to him more than just as friends. She is afraid of ruining her friendship with him by taking it to the next level. Jack has no such qualms and proposes a "friends with benefits" deal. For the next five nights they play a round of blackjack and whoever wins gets to choose the sexual encounter.
The Deal
was a fun story. Jack and Cassidy are normal, likable people. Cassidy has her hang-ups though. She is really worried about getting hurt again so she doesn't want to get close to anyone. Jack is having none of it though and does his best to win her over. The sex was pretty creative and yet the author conveyed that it wasn't just the sex, but a connection between the two characters. Eventually, Cassidy has to confront her past in order to move on and she does.
Here is what others had to say:
The Happily Ever After
The Good, The Bad, The Unread
Sula's Space
Dear Author
Karen Knows Best (AztecLady)
The Reading Spot