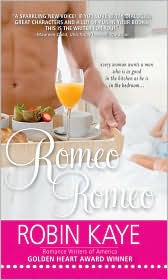 Title:
Romeo, Romeo
Author:
Robin Kaye
Publishing Date:
November 2008
Genre:
Contemporary
Rating:
B+
Sensuality:
Hot
Rosalie Ronaldi finds herself with a flat tire on the side of the interstate, when she leaves her parent's house after having joined her family for their traditional Sunday dinner. Nick Romeo, who owns several car dealerships, is working late Sunday evening on one of his beloved cars. On his way home, he notices an attractive woman on the side of the road kicking her car's flat tire. Being the nice guy that he is, he stops to give her a hand. Nick is used to women falling at his feet and hasn't had to actively pursue a woman for her attentions. Until Rosalie, that is. He finds himself intrigued and attracted.
I have to say I was pleasantly surprised with
Romeo, Romeo
. I think the back blurb is a little misleading to the plot of the book. It focuses a little too much on how Nick loves to cook and clean and how Rosalie doesn't. While this is true to a certain extent, it is in no way the driving factor of the book. Nick keeps his true identity from Rosalie, throughout most of the book. The fact that he has a lot of money, and has women jumping at the chance to reel him in – as if he was a fish - and a prize one at that, he feels it's necessary to keep his identity from Rosalie. Because Rosalie thinks he is just an auto mechanic and seems to like him for himself, he continues to lie to her. Things get complicated as they always do, and it is not long before Nick is in way too deep and is clueless on how to correct her false assumptions.
There is lots of snarky humor and fast paced witticisms in this book. Some people might find Rosalie's sarcasm a turn off, but I didn't. Sometimes it was a little too much, but overall I thought it gave a ring of truth to Rosalie's personality. I am a real sucker for good conversation.
Romeo, Romeo
had it in spades. Here is an example of the quick writing, with an exchange between Nick and Rosalie:
She gave him a squeeze and a slow, thorough kiss before sliding off his lap. "I'm going to take a hot shower. I'm still cold to the bone and I want to wash off the icky feeling of Johnny's sweaty hand. God, he's such a pig. I might have to burn this skirt."

"You sure you don't want me to pay him a visit? I'll teach him to keep his hands to himself."

She patted his cheek. "That's a sweet offer. Cro-Magnon, but sweet."

Nick wrapped his arm around her waist as she slid back on his lap. He held her hips as he moved beneath her and whispered in her ear. "I know how much you like it when I play 'caveman'."

He nipped her earlobe, and she groaned. "Oh, yeah. Let me get a shower; you get your club. I'll meet you in the cave in a half hour."

"Take your time. I have to hunt for food first."

"It's a date."
Also, I love the picture Ms. Kaye paints of life in New York City. I haven't ever been there myself, but I could imagine a day in the life of Rosalie and Nick in the City with trips on the Subway and dinner at small intimate restaurants in Little Italy. There were a slew of secondary characters that I felt only added to the charm of the story. Even Rosalie's dog made an impact. All in all, this was a charming, light read.
Here is what others had to say:
Good and Bad Books
What I am Reading...
Alpha Heroes
Ramblings on Romance
Terra's Book Blog
Book Binge