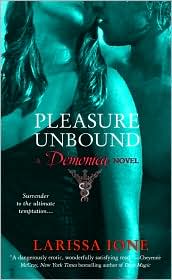 Title:
Pleasure Unbound
Author:
Larissa Ione
Publishing Date:
July 2008
Genre:
Paranormal
Rating:
B-
Sensuality:
Burning
Pleasure Unbound
is sort of like "ER" meets "Buffy the Demon Slayer". In this book there is a whole different dimension that most humans are unaware of, that houses a wide range of demons and other mythical creatures. Some of these demons are able to leave this dimension and live among humans. Only The Aegis, a group of human warriors trained to kill demons, are aware of their existence. Tayla Mancuso is one such guardian. She is out fighting demons with her partner Janet and is severely injured in a fight with a demon. She is found and taken to a demon hospital where she meets Eidolon, the doctor and founder of the hospital.
Eidolon and Tayla are the most unlikely couple imaginable. Tayla has been taught that all demons are evil and it is her duty to wipe out as many as she possibly can, to ensure the safety of the rest of the world. Eidolon's brother was killed by The Aegis and has nursed his hatred of them over time. To say that these two have major obstacles to overcome is quite an understatement.
This book's strength lies in the intricate and original world building. I personally haven't ever come across a paranormal that deals with demons and the medical field. It is an interesting combination. There is a lot going on plot wise besides just the romance between Tayla and Eidolon. Someone is torturing demons and harvesting body parts from them to sell on the black market. Eidolon thinks the Aegis is involved and Tayla is determined to prove him wrong. Tayla herself has been ill and uncovering her mysterious illness adds tension to the story. Eidolon has two brothers Wraith and Shade that have issues as well. Plus, there are a few others that you will just have to read the book to find out about!
As far as the romance goes it was just okay for me. Eidolon was good. I liked him, but Tayla's personality was a bit too prickly for my taste. Of course, she had good reason, so I could let a lot of it slide. These two had so much to overcome it wasn't until the last 100 or so pages that they finally got past their differences and started working together. Once they did, I enjoyed them a lot more.
One thing that I found slightly disturbing and a little jarring is the fact that these creatures are demons. They are not human and therefore do not always act human, nor are they expected too. Some species of demons have more humanistic tendencies than others. A few of the creatures are down right horrifying. The book is quite graphic and that may put a few readers off.
The main plot isn't completely solved at the end of this book and it is obvious that this is the start of a series. It didn't feel contrived though. It felt natural to have it end where it did. I am sure Eidolon's brothers with eventually be getting their own stories. I will be one of many to check out the next installment.
Here is what others had to say:
LesleyW's Book Nook
SciFiGuy.ca
Dear Author
Darque Reviews
Book Binge
The Book Smugglers
What Women Read