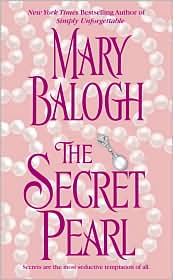 The Secret Pearl
is one of the books that I kept hearing things about time and again in the message boards at
Romantic Times
and
All About Romance
. I found the discussions about it to stand out because some people really liked it and others hated it. Wondering which camp I would fall in, I had to see for myself what all the fuss was about, as usual.
I have read some of Mary Balogh's work which included a few books from her Bedwyn series and a couple from her Mistress series, all of which I enjoyed.
The Secret Pearl
has made All About Romances top 100 Romances List twice as well as being a Romantic Time's Reviewers Choice in 1991. Let's see if it lives up to expectations, shall we?
From the Cover:
PASSION FLOWER

Fleur. That was her middle name. The name she told the
man to whom she sold herself out of desperate want. But her full name was
Isabella Fleur Bradshaw, gently born and brutally expelled from her sheltered
life. His name was Adam Kent, Duke of Ridgeway, the wealthiest lord in England,
but scarred in war, bitterly betrayed in marriage.

She feared his
overpowering physical passion. He fought to keep from loving her. They each had
so much to teach each other and so much to learn... 'n a drama of desire played
out on a vast estate - where a man and a woman come closer and closer to their
moment of heart-pounding truth…