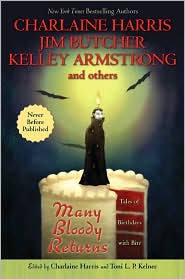 Title:
Twilight
(A story in the anthology
Many Bloody Returns
)
Author:
Kelley Armstrong
Publishing Date:
2007
Genre:
Paranormal
Rating:
B+
Sensuality:
Kisses
Twilight
is narrated by the vampire Cassandra. Even though, as a vampire Cassandra is considered immortal, she does have an expiration date. She has sensed for a while now that her time is coming to an end. She has little desire to continue as she has been. Once a year vampires are required to make a kill. She has come upon the anniversary of her kill and needs to make it if she is to continue living.
Twilight
addresses Cassandra's struggle and reluctance to take her annual kill. Her good friend Aaron senses Cassandra's stress and is concerned. I loved getting a glimpse into Cassandra in this short story. In the past books Cassandra has come across as very cold and uncaring. That is not the case in this story. I loved getting to see her interact with Aaron as he is very much so her opposite in personality. Where Cassandra is serious Aaron is playful.
Title:
Stalked
(A story in the anthology
My Big Fat Supernatural Honeymoon
)
Author:
Kelley Armstrong
Publishing Date:
2007
Genre:
Paranormal
Rating:
B
Sensuality:
Kisses
The short story
Stalked
takes place two years after Elena gave birth to the twins. It is told in the first person point of view by Clay. They are on their honeymoon and I am not sure what city they are in. As they are honeymooning Clay smells that a mutt has been following them. Clay is the muscle in the pack, but ever since he damaged his right arm, his dominant arm, he has been worried about other mutts coming to challenge him. That is exactly what happens in
Stalked
. Some mutt has decided he wants to see if the rumors are true and Clay has to prove that he is still a wolf not to be taken lightly.
This story is only 30 pages long. It just amazes me how Kelley Armstrong can write such a short story and it be a quick enjoyable read. There wasn't really anything ground breaking as far as originality with this story but it was nice to have more insight into Clay. This was the first story in this series narrated by him.