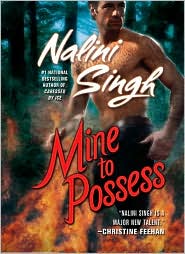 Title:
Mine to Possess
Author:
Nalini Singh
Publishing Date:
February 2008
Genre:
Paranormal
Rating:
C
Sensuality:
Hot
Mine to Possess
is the fourth book in Nalini Singh's Psy-Changeling series. Clay Bennett who is a sentinel for the DarkRiver leopard pack has been haunted by the death of his childhood sweetheart, Talin. While he was in juvenile detention for killing Talin's abuser, he is informed that she died in an auto accident. Now he is a grown man and he still occasionally smells her scent on the breeze and wonders if he is being haunted by her ghost. Talin is not dead, and has kept this knowledge from Clay. Now, she needs his help and hopes that he will be able to forgive her and help her find her foster son who she believes has been taken by the Psy.
The Psy-Changeling series is evolving to incorporate the human part of the world into the series. Readers were exposed to the Psy and the Changeling way of life in the first three books and now with
Mine to Possess
, they get to add humans to the mix. The reader is also introduced to other Changeling groups such as rats and snakes. Ms. Singh is expanding her world and creating changes that are important to future books. I felt with
Mine to Possess
there was a shift in the direction of the series. Fans of the series should be happy with the new direction the author is going with.
There are many great elements to this story such as great world building and a tough alpha hero. Clay is extremely protective and possessive of Talin. As much as I love these elements and I am definitely a sucker for childhood loves, Talin and Clay just could not hold my attention. I think the main reason for me was that much of the story was told instead of acted out. Also, there was a lot of repetitiveness in the characters thoughts. These things took away from the action for me and therefore caused the story's pacing to drag. This was just an average read for me.
Here is what others had to say:
LesleyW's Book Nook
Karen Knows Best (AztecLady)
Renee Reads Romance
Ramblings on Romance etc.
Rosario's Reading Journal
Scooper Speaks
Lurv A La Mode
The Happily Ever After
Breezing Through