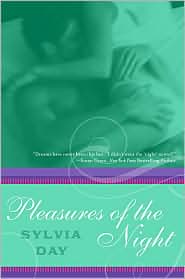 Title:
Pleasures of the Night
Author:
Sylvia Day
Publishing Date:
2007
Genre:
Paranormal (Erotic)
Rating:
D
Sensuality:
Burning
Aidan Cross is guardian of the realm of Twilight, a place that exists only between the real world and the dream world. It is Aidan's mission to guard humans from Nightmares when they are dreaming, by having mind blowing sex with them. Also, his other duty as an elite warrior and the reason for his existence is the find and kill The Key. Unfortunately for Aidan, Lyssa is The Key and he falls in love with her.
I don't know why I decided to read this book. As I was summarizing the plot, I realized just how ludicrous the whole book seems. It could have been fun, albeit a little campy, but for me it didn't measure up. (Although there were quite a few references to how Aidan's package did).
I think the main problem for me was that the characters just felt bland. There wasn't really anything to hold my interest and I felt disconnected from them. I didn't feel any urgency with the problems Lyssa and Aidan faced. As a matter of fact the issues revolving around Lyssa and Aidan are never fully resolved. It seems to me they just got brushed under the rug. I think there was potential with the prophecy and the world building, but it wasn't fully developed. There is another book in this series, so it's possible more things will be disclosed in that book. I am not certain I am interested enough to continue on though.
Here is what others had to say:
Thrifty Reader