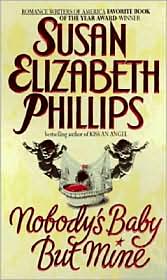 Title:
Nobody's Baby but Mine
Author:
Susan Elizabeth Phillips
Publishing Date:
1997
Genre:
Contemporary
Rating:
B+
Sensuality:
Hot
Dr. Jane Darlington desperately wants a baby. She is thirty-four years old and has spent most of her life alone. Jane, with an advanced IQ, obtained a Ph.D in physics at a record young age of twenty. Jane wants the father of her baby to be dumb. This is to counteract her own intelligence so her child is normal. When she see's the Chicago Star's quarterback on TV being interviewed, she thinks he would be the perfect candidate. With a crazy scheme from her next door neighbor, Jane sets out to make her dream a reality.
The major complication in this book is that Jane deceives Cal, right at the beginning of the story. Even though, what Jane does is unethical and I had problems with her dishonesty, I still could see where she was coming from, as well as Cal's point of view. It was easy to like both characters because Ms. Phillips's writing is so very engaging. The reader is completely invested in these characters.
There were numerous funny scenes interspersed throughout the book along with heart-wrenching ones as well. The creative interaction between the characters was outrageous and extremely entertaining. I liked how Jane and Cal challenged each other. There is one scene in particular where Jane surprises Cal by sabotaging his favorite breakfast cereal, Lucky Charms. What a riot! The "first date" scene at the drive-in movie theater, as well as many others, are very memorable and will stay with readers long after they have finished the book. There is a side story involving Cal's parents that only added to the emotional impact of the story. I can see why SEP has made such a big name for herself.
Here is what others had to say:
The Forgetful Faerie
Leslie's Psyche
Just Your Average Carpool Queen
A Book Lover