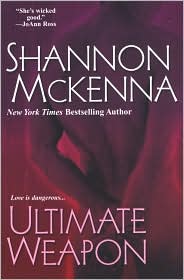 Title:
Ultimate Weapon
Author:
Shannon McKenna
Publishing Date:
November 2008
Genre:
Romantic Suspense
Rating:
A-
Sensuality:
Hot
Ultimate Weapon
is book six in the McCloud brother series. Finally, readers get to witness Tamara Steele's story. She mysteriously appeared in Standing in the Shadows as Novak's mistress. In the end she ultimately helps Erin escape by killing Novak. Well Daddy Novak over the years has been nursing a grudge the size of Texas. It comes to his attention that Tamara is alive and he seeks to abduct her and torture her. Val Janos who once worked for Novak has been sent to bring Tamara to Daddy Novak. Val who wants absolutely nothing to do with Novak is in a rock and a hard place because Novak is holding his dear friend and mentor Imre captive. If Val doesn't do as Novak demands, then Imre will be slowly tortured to death. Sounds like fun, doesn't it?
When McKenna writes a bad guy, she really writes a bad, evil, totally f---ed up psychopath. She leaves nothing to the imagination. Novak is completely sick and twisted leaving the reader cringing with fear and desperation for Tamara and Val.
Ultimate Weapon
has lots of very graphic action. For more sensitive readers, it might be much for them to read.
I found this book to be quite different from the other books in the series. For one thing there wasn't as much sex and it wasn't as graphic as past books. McKenna has toned down the use of crude sex words in her love scenes. Also Janos is a European man, with English not being his first language. McKenna did a fabulous job of making this very believable right down to the way he talked and handled Tamara. He was more sophisticated than her past heroes. I was really worried with Tamara being such a ball buster of a woman that no man could stand up to her. I needn't have worried. Janos was an even match for her without completely overpowering her. Tamara stayed true to the character readers have come to know and love. For me, this story really worked and I am glad that McKenna has taken a different approach to her writing.
Here is what others had to say:
Rip My Bodice