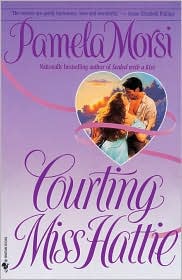 Title:
Courting Miss Hattie
Author:
Pamela Morsi
Publishing Date:
1991
Genre:
Western
Rating:
B+
Sensuality:
Hot
At a young age Miss Hattie Colfax had to run her family farm by herself with the help of her plowboy Reed Tyler. She was determined to be successful and sure enough she has one of the most prosperous farms in town. Although, since she had a farm to worry about, her youth passed her by. Now, at twenty-nine for the first time a man wants to court her. Hattie believed that her dreams of having a family of her own where just that, dreams. But when Ancil Drayton's wife dies and he desperately needs someone to help care for them, he turns to Hattie. Reed Tyler who has known Hattie since he was a child and starts to look at Hattie in a new light now that Ancil is showing some interest.
Courting Miss Hattie
was a wonderful, peach of a story. This story is more character driven, than action driven. The characters are rich and vivid as is the backdrop of Arkansas. Hattie knows she is not the prettiest woman around, but she is smart and hard working. She takes a lot of pride in her farm. Hattie who hasn't ever had someone show a romantic interest in her doesn't exactly know how to handle this new attention Ancil is giving her. He opens up a whole new perspective for her and she realizes that her feelings for Reed are more than just friendship. Even though Reed is engaged to pretty Bessie Jane, he can't seem to stop thinking about Hattie either.
As the story unfolds slowly Hattie and Reed unearth their feelings for each other. The scenes are so sweet and tender. Not to worry, it never feels syrupy. My favorite part of the book is when Reed sees Hattie crying on her front porch. He wants to know what has her so upset and she tells him she doesn't know how to kiss. He then proceeds to give her a lesson in kissing. It is a most memorable scene because of their innocence and it is both funny and touching. Both are surprised at the depths of their feelings this kissing lesson evokes and it becomes a turning point in their relationship. If you like westerns or frontier romances, it doesn't get better than this folks.
Here is what others had to say:
I love fiction