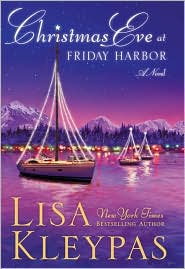 Title:
Christmas Eve at Friday Harbor
Author:
Lisa Kleypas
Publishing Date:
November 2010
Genre:
Contemporary
Rating:
B
Sensuality:
Warm
Book Disclosure:
I borrowed a copy from the library.
Christmas Eve at Friday Harbor
is the first book in a new contemporary romance series by Lisa Kleypas. This new series revolves around three bachelor brothers whose parents have passed away. Mark Nolan, the oldest of the group, finds himself the guardian to his niece when his younger sister unexpected dies in a car accident. Holly, at age 7, easily steals his heart as a solemn, silent child. Mark takes Holly into a local toy shop that recently opened up and is owned by Maggie Collins who is no stranger to grief. She, herself, is a recent widow and feels and instant connection with Holly and not to mention Mark. Maggie isn't sure if she is ready for the feelings Mark stirs in her.
Christmas Eve at Friday Harbor
is a sweet, stirring story about grief and recovery. Holly is such a sweet child, you can't help but feel tenderness towards her and it is no surprise that as reluctant as Mark is about his surprising parenthood he takes to it like a duck to water. I enjoyed the camaraderie between Mark and his brother Sam as they muddle through learning the ropes of child rearing and establishing a family atmosphere for Holly.
Holly is extremely reluctant to get involved in another romantic relationship after the devastation of losing her husband. So it is with reluctance that she develops a friendship with Mark and his daughter Holly. But the truth is Holly is irresistibly drawn to Mark. I enjoyed this sweet romance between Holly and Mark. Although, my major complaint would be that the story was too short!! The story is only 210 pages and of course as a fan of Ms. Kleypas I wanted so much more. Really, I felt like this story was just a tease of greatness to come from this new series. I can't wait for more!
Here is what others had to say:
Babbling About Books and More
The Happily Ever After
Alpha Reader