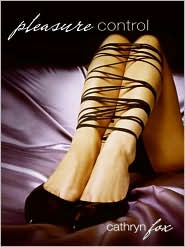 Title:
Pleasure Control
Author:
Cathryn Fox
Publishing Date:
2006
Genre:
Contemporary/Erotic
Rating:
C
Senuality:
Hot
Book Disclosure:
I received a free copy from the RT Book Lovers Convention.
Pleasure Control
is book one of Cathryn Fox's Pleasure Game series. Laura Manning is a scientist working on discovering a potion to inhibit a man's libido. For a long time she has had a crush on her lab partner Jay Cutler. With a deadline for the potion hanging over them, Jay suggests Laura try the potion on him and then seduce him to see if it works. Against her better judgment Laura goes along with the plan.
Pleasure Control
was an okay read for me. This book kind of gets the kiss of death I guess since there is not a lot that sets it apart from other books, nor is there anything that really stands out in my mind about it. It was neither good nor bad but somewhere in between. The characters, the plot and the execution were all just mediocre. What else can I say?
The good things
Pleasure Control
has going for it are that is it short and sweet. There is not a lot of conflict. It's a relatively fast read at only 228 pages. Unfortunately, I can't really recommend it, unless there is not much else to read, or you want something short.