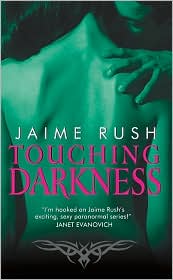 Title:
Touching Darkness
Author:
Jaime Rush
Publishing Date:
May 2010
Genre:
Paranormal
Rating:
B
Sensuality:
Warm
Book Disclosure:
I received a free copy at the RT Book Lovers convention this year.
Touching Darkness
is the third book in Jaime Rush's Offspring series. Nicholas Braden was recruited by the CIA to find a dangerous group of young people called "Offspring". Nicholas has always been good at finding things ever since he was a teen and now he can put those skills to good use, or so he thinks. After a while he discovers that the side he is fighting on may not be the right side. He has to convince Olivia, the director's daughter that her Father is involved in illegal activities. Nicholas must find answers if he is going to survive and protect Olivia as well.
Touching Darkness
is my favorite book in the series thus far. Plot wise things are really heating up. More information is revealed regarding the secrets behind the Blue Eyes science project. The bigger picture is starting to unfold and new intriguing characters are introduced with very interesting psychic powers. Also, it is interesting to see those "happy for now" endings in past books are continuing and evolving in this book, Lucas and Amy's relationship especially.
As far as the main relationship, Nicholas courts Olivia with tenderness. Their romance was very sweet and not at all what I had expected compared to the other books in the series. Olivia is a very sheltered young woman who spent most of her life in isolation trying to please her Father. Nicholas's upbringing was very different from Olivia's as he came from a loving family and had a normal childhood. The romance is still the weakest part of the book for me because it is not nearly as well developed as the plot. However, because Nicholas and Olivia were very young characters, 20 and 23 respectively, it worked for me. And the plot is fantastic. Therefore I am willing to sacrifice some of the romance. I definitely will be reading the next book in the series.