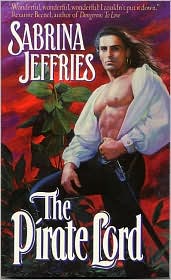 Title:
The Pirate Lord
Author:
Sabrina Jeffries
Publishing Date:
1998
Genre:
Historical
Rating:
B-
Sensuality:
Warm
Book Disclosure:
I received a used copy from Paperbackswap.com
The Pirate Lord
is the first book in Sabrina Jeffries Lord Trilogy. Sara Willis, Stepdaughter to the late Earl of Blackmore, has devoted her life to helping those less fortunate than her. She learns that a group of women convicts are being shipped to New South Wales. Despite her brother's opposition Sara obtains passage on the ship as a schoolteacher. Shortly after passage Sara's boat is taken by a group of pirates. The Captain Gideon Horn learns that the ship is full of women and gets the brilliant idea to capture the ship so his men will have wives. Gideon has found an unoccupied island in the tropics and plans to create his own Utopia. His plans don't exactly go as planned once Sara puts her mind to riling up the women to disagree to the idea.
I picked up
The Pirate Lord
because my good friend
Kristie J.
recommended it to me. It sounded like a fun, yet silly book and I haven't read a good pirate romance in a while. I was pleasantly surprised that the book wasn't as silly as I feared. It actually had more serious undertones than I expected and was pleasantly surprised. It was a little slow in the middle and the ending was predictable. However, I thought both Gideon and Sara were strong characters.
Sara and Gideon have met their match with the other. Both are used to getting what they want, easily bowling over any opposition. Once they encounter each other it is like fire to water. Both are stubborn in the face of their own wants and beliefs and are not afraid to go after them. Their first encounters are fun to read. The middle part of the book drags a little bit for me because Sara takes so long to come to the conclusion that Gideon is a good man. It is pretty obvious to the reader that he is a decent guy despite his kidnapping a bunch of women for his own nefarious purposes! Gideon is one of those heroes who doesn't trust women and predictably the story foreshadows that Gideon will believe that Sara betrays him. While that was predictable there is still a surprise element that left me quite satisfied with the story. Thanks Kristie J for recommending this one to me!