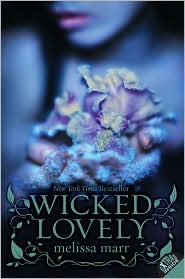 Title:
Wicked Lovely
Author:
Melissa Marr
Publishing Date:
2007
Genre:
Young Adult/Fantasy
Rating:
B
Sensuality:
Warm
Book Disclosure:
I borrowed a copy from my library
Wicked Lovely
is the first book in Melissa Marr's Wicked Lovely series. Aislinn has always been able to see faeries ever since she can remember. Her Gram taught her that no matter what, she must pretend as if they don't exist. Up until now that really hadn't been a problem for Aislinn to pretend as if they didn't exist, until Keenan the Summer King decides that Aislinn is his Summer Queen and must make it so. Keenan sets out to court Aislinn but to his dismay she doesn't want anything to do with him, no matter that he is the most beautiful man she has ever laid eyes on.
I don't usually read YA novels, but there has been a lot of buzz revolving around Miss Marr's popular series and what the hell, why shouldn't I jump on the faery train too? With that said, I liked the story. It was very captivating, although with Aislinn being so young I felt like her maturity level was difficult for me, personally, to relate too. This is one of the reasons I have hesitated to read YA. But that minor issue of mine aside, I did enjoy the story and wouldn't mind continuing with the series.
Wicked Lovely's
pacing was great and the story just flowed beautifully. There is plenty of conflict between Aishlinn trying hard not to attract any attention from the faeries, Keenan not being successful with his courtship of Aishlinn and to Aishlinn and Keenan defeating the Winter Queen. I wish there would have been more description of the faery world and how everything works. Although as the series progresses, I am sure more will be revealed. Also, I thought Aishlinn was a little weak as a heroine, but that also could have been attributed to her age. I mean what teenager isn't riddled with doubts, right? Good story. Good writing. I'm definitely reading more.