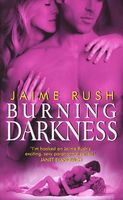 If you follow my blog you are familar with the fact that I am a fan of Jaime Rush's
Offspring Series
. Good news for followers of the series. Jaime Rush is offering a contest. Here is more information:
A Cool Contest for Readers and Writers –A little fame & a little fortune! Jaime Rush is celebrating the fourth book in her urban fantasy romance series, BURNING DARKNESS (Avon), with her Kick Butt First Line contest. Shocking, suspenseful, funny…make us want more! Cash prizes! Contest runs through March 1, 2011. For aspiring authors, it's a chance to get your name out there and add a "win" to your bio. For readers, it's a chance to play at being a writer. For details, and to check out the entries, go to www.JaimeRush.com and click on the Contest link.

Be sure to check it out!!