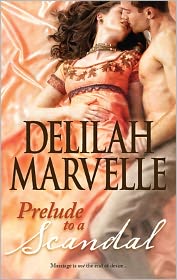 Title:
Prelude to a Scandal
Author:
Delilah Marvelle
Publishing Date:
January 2011
Genre:
Historical
Rating:
B
Sensuality:
Hot
Book Disclosure:
I received an ARC from the author.
Prelude to a Scandal
is the first book in Delilah Marvelle's newest series. Lady Justine is in a bit of a pickle. Her father has been incarcerated for his scandalous, scientific research on the mating habits of animals. Justine creates a proposal to gain the help of her Father's most staunch supporter Radcliff, the Duke of Bradford. She offers Radcliff several nights with her in exchange for helping to secure her father's release from Prison. Radcliffe counter-offers with a proposal of marriage.
Prelude to a Scandal's
plot had me engrossed in the story right from the beginning. The pacing flowed marvelously and the characters both had interesting personalities. Radcliff was unusual in the sense that he has an addiction to sex, so much so that he feels ashamed of his inability to control his physical needs. Justine's personality was different in the fact that as a woman in that time period she felt very refreshing and modern. These two learn to communicate early on in their relationship and have no issues with honesty. But they do have other issues that they must work through.
I worried a little when starting this book that with the hero having a sex addiction that the content would be very dark. That wasn't the case at all. Even though the subject matter was serious the tone of the book was light and not angsty at all. Sometimes Justine would come across as unfeeling towards Radcliff because she would take a tough love approach to his issues. It felt a little insensitive at times. But for the most part the book has very funny, light mood. I would recommend this book to a historical romance fan who is in the mood for something fun without brooding, moody characters.
Here is what others had to say:
Tracy's Place
Love Romance Passion
Booking It
My Book Addiction