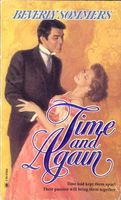 Title:
Time and Again
Author:
Beverly Sommers
Publishing Date:
1987
Genre:
Time Travel
Rating:
B
Sensuality:
Warm
Book Disclosure:
I received a copy from Paperbackswap.com
I choose
Time and Again
because of this really great post done by
Magdalan
at Monkey Bear Reviews. I was in the mood for something different and this one fit the bill, a time-travel novel that takes place in turn of the century San Francisco, California. Lauren Hall is one minute at a McDonalds in 1980 in the middle of an earthquake only to find herself transported thru time to 1906. Early Cruz, a reporter for the newspaper takes pity on Lauren and allows her to live as his housekeeper.
Time and Again
is a short book coming in at 253 pages. It is a quick, interesting read. I think I finished it easily in a day. The neat thing about this book is that it really is unlike any other romance I have read. The time travel portion of the book came off as rather genuine especially Lauren and Early's reaction to the time-travel. Early is very much old fashioned in comparison to Lauren's more modern proclivities. There is not a lot of romance between Lauren and Early, but what there was developed slowly. If you are looking for something a little different from the usual, give this a try (if you can find it, LOL).