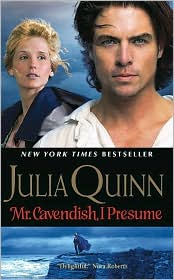 Title:
Mr. Cavendish, I Presume
Author:
Julia Quinn
Publishing Date:
2008
Genre:
Historical
Rating:
B-
Sensuality:
Warm
Book Disclosure:
I received a used copy from paperbackswap.com.
The neat thing about
Mr. Cavendish, I Presume
is that it tells the same story as The Lost Duke of Wyndham but from a different perspective. The first book, TLDOF told the story from Jack Audley's and Grace Eversleigh's points of view. Now MCIP is told from Thomas Cavendish's and Amelia Willoughby's points of view. Thomas may or may not be the Duke of Wyndham since Jack Audley is his cousin of whom no one knew existed. Thomas will travel with an entourage of people to discover if indeed Jack's parent's marriage is legitimate and if so then Thomas will no longer be the Duke. To make matters even more complicated Thomas has been engaged to Lady Amelia Willoughby since they were young children. Thomas has put off his responsibility in marrying her and now that he finds she may not be his intended he discovers that he is more bothered by that fact than actually losing his title.
What I liked. Julia Quinn does a very good job of showing instead of telling the story. There are a lot of really great scenes between Amelia and Thomas where they are open and frank with each other. I liked that Amelia has a backbone where Thomas is concerned and decides she is tired of waiting around for him. Her impulsive nature is good for Thomas because he is too serious and stuffy most of the time. I thought it was interesting that Ms. Quinn decided to write the same story but using different perspectives. It was neat to see the same scene being played out but getting a different view of it.
What I didn't like. I had some issues with Thomas. I hated that he kept Amelia waiting and took her for granted. His indifference was hurting Amelia and because he was so self absorbed it took him a while to see that. It also took Thomas a painfully long time to realize that if he wants Amelia then he needs to go after her and win her affection. Basically, Thomas was such a Nob! The good thing is that at least Thomas grows throughout the story.