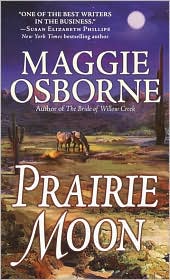 Title:
Prairie Moon
Author:
Maggie Osborne
Publishing Date:
2007
Genre:
Western
Rating:
C+
Sensuality:
Warm
Book Disclosure:
I downloaded an audio book from my library.
Della Ward has lived an isolated existence since her husband was killed in the Civil War. Living in a remote western farm she spends her days regretting the last letter she wrote to her husband. James Cameron is haunted by his past as well. He has spent the last ten years struggling with the decision to go to Della Ward and give her a letter and photo that her husband had on his position when he died. James struggles with the death of Della's husband, but he will have to tell her the truth if he is ever going to move on with his life. He owes Della that much, at least.
Prairie Moon
is a very tender and sad love story. Della and James both have an incredible amount of baggage. I like that Ms. Osborne doesn't reveal everything at once to the reader but rather dished it out a little at a time to keep the reader interested in what is going on. Once the reader does discover what both of these characters have gone through, especially Della, their heart will break for them.
There were a few things about the book that kept me from giving it a higher grade. James keeps a very big secret from Della for most of the book and the reader knows that eventually Della is going to find out James motivation for coming to her. James allows Della to make untrue assumptions about how her husband died and he doesn't correct her. When the truth does finally come to light Della reacts just the way James had feared. That bothered me about her. After everything she had learned about James and all the time she spent with him she should have handled it better. Eventually these two do get their happy ending, but boy did they have a long journey of heartbreak to get there.