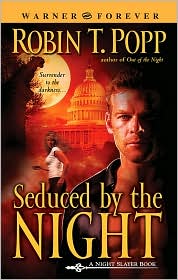 Title:
Seduced by the Night
Author:
Robin T. Popp
Publishing Date:
2006
Genre:
Paranormal
Rating:
D+
Sensuality:
Warm
Book Disclosure:
I purchased a used book.
Seduced by the Night
is the second book in Robin T. Popp's Night Slayer series. Bethany Stavinoski is a biochemist and has recently been awarded for her brilliance in her leading research. Unfortunately for Bethany, it has made her the target of a group of men looking to create a new drug. These men are strange and mysterious but Bethany is lucky to have a protector in Dirk Adams a former military man who has a few secrets up his sleeves. Bethany is engaged to another man, but that doesn't extinguish the flames that burn between Bethany and Dirk.
I really enjoyed the first book in the series
Out of the Night
, which I rated an A. But unfortunately I didn't enjoy
Seduced by the Night
quite as much. One of the things I really enjoyed about OOTN is the unusual twist to the vampire legend. I thought it was rather clever and different from most vampire books, but by the second book that novelty had worn off and nothing new in terms of the legend had come to light, although there were new characters and motivations that surfaced in this book.
The other thing that bothered me with this book was that Bethany was engaged to another man and while she didn't feel passionate toward him she still was committed to him and it took away from her relationship development with Dirk. Dirk was kind of a Neanderthal with Bethany at times and of course hated the fact she belonged to another. I just couldn't really get into this one. Robin T. Popp's writing style reminds me of Elizabeth Jennings or Lisa Marie Rice, where the heroines are very feminine and the males are extremely protective, which is not a bad combination, it just didn't work for me in
Seduced by the Night
.