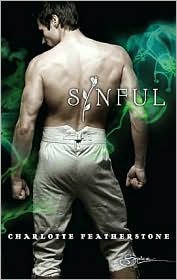 Title:
Sinful
Author:
Charlotte Featherstone
Publishing Date:
2010
Genre:
Historical/Erotic
Rating:
D
Sensuality:
Hot
Book Disclosure:
I received a used copy from Paperbackswap.com
Matthew, the Earl of Wallingford needs money. His father has decided to cut him off from funds because of his wild and reckless lifestyle. Matthew holds an auction for one of his very risqué paintings. This money will allow him to open his own art gallery. After the action Matthew is jumped by a couple of thugs and is brutally beaten and left for dead. Someone finds him and he is taken to a hospital where he is nursed by Jane Rankin who is considered shy and plain by most.
Sinful
started out with promise. Charlotte Featherstone's writing is very sensual and the characters were intriguing, each with a mysterious past. Unfortunately, things went downhill after the first quarter of the book. There is a point when Matthew insults Jane with such cruelty. It was such an ugly hurtful scene that I felt in order for things to work between them Matthew was going to have to grovel. He never really does. I believe they do talk about the incident but not much in the way of an apology is given.
Then the ending of the book was a complete an utter disappointment. Matthew had some major baggage in his past and I don't feel that it was ever resolved. Also, I felt cheated at the way that Matthew and Jane get their "happy ever after". I can't really go into details without spoiling it for other readers. Just suffice it to say that I was majorly disappointed. I almost wish I had not finished the book and just stopped in the middle. I would have been more satisfied. Sorry, but this is not a book I can recommend.
Here is what others had to say:
The Book Pushers
Book Addict
Smexy Books
Literary Escapism