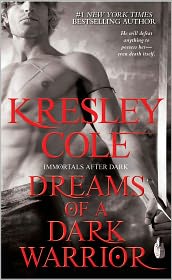 Title:
Dreams of a Dark Warrior
Author:
Kresley Cole
Publishing Date:
February 2011
Genre:
Paranormal
Rating:
B-
Sensuality:
Hot
Book Disclosure:
I purchased a new ebook for my Nook from B & N.
Dreams of a Dark Warrior
is the ninth book in Kresley Cole's Immortals After Dark series. Regin the Radiant and Aiden the Fierce have an ill-fated love. Throughout the centuries, Aiden a mortal Berserker was killed before he could earn his immortality. Since then, he keeps being reincarnated but as soon as he kisses Regin he remembers Aiden's memories. Shortly after that, he dies. Regin is taken captive by Declan Chase the Magister of the Order. Regin realizes right away that Declan is Aiden reincarnated once again. Somehow Regin has to escape without alerting Declan to his past or she knows he will be killed again yet at the same time, she must keep her own self alive too.
I didn't enjoy
Dreams of a Dark Warrior
as I have some of the other books in this series. Mainly it was because of Declan. I had a really hard time with his character. He was very badly damaged as a teenager and his hatred of immortals has shaped his whole life. I found his character not very appealing. I thought his behavior was hard to redeem.
Now having said how much I didn't like Declan, I did really like Regin. She had a lot of funny one liners that were quite humorous. If you have liked Cole's humor in the past you will continue to enjoy it in this book, as well. Regin and Declan have such a struggle in this book. The reader really wonders how all the problems are going to be solved between Declan and Regin. I think the author did a pretty good job of showing a change in Declan. He just wasn't a very appealing hero for me, though.