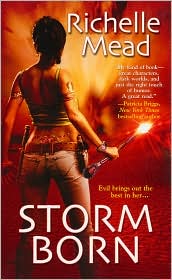 Title:
Storm Born
Author:
Richelle Mead
Publishing Date:
2008
Genre:
Urban Fantasy
Rating:
B+
Sensuality:
Hot
Book Disclosure:
I purchased a used copy.
Storm Born
is the first book in Richelle Mead's Dark Swan series. Eugenie Markham is a shaman. This means that she can walk two worlds, the natural world and the unnatural. Eugenie has been trained since she was a young girl to banish the unnatural back to their world. Recently, more and more attacks by these supernatural creatures have been aimed specifically at her. She becomes the object of much attention because of a prophecy and these creatures even know her by name. Eugenie discovers that a young girl has been kidnapped by the fey. To get the girl back Eugenie must traverse the unnatural world and face a most dangerous fey. To do that, she needs the help of Dorian, another dangerous fairy king. Along the way she also meets a sexy shapeshifter.
Why has it taken my so long to read Richelle Mead? I loved this book! It was rich with world building. I loved the strange fairy world and the beautiful picturesque descriptions. I found Eugenie to be a very straight forward and endearing character. She is a total hard ass when it comes to banishing the bad guys. She doesn't hesitate. Yet she does have a soft vulnerable side, which makes her very appealing to readers. I liked that Eugenie is a work in progress. She doesn't have all the answers. As she walks among the fairies and she learns more about them, she realizes that maybe she misjudged them.
As far as the romance goes, there is a little bit of a love triangle. I know some readers love that and some readers hate it. This has to be the one time that I really can't pick the hero the heroine is leaning towards. I have my own favorite, but I am not sure if that is who Eugenie will pick. I really enjoyed this first installment of Richelle Mead's new urban fantasy series. I can't wait to see where she takes readers next into this interesting world.