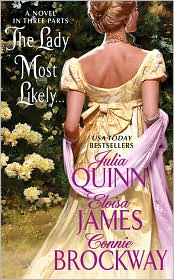 Title:
The Lady Most Likely...
Author:
Anthology: Julia Quinn, Eloisa James and Connie Brockway
Publishing Date:
2010
Genre:
Historical
Rating:
B
Sensuality:
Hot
Book Disclosure:
I purchased a new copy.
Lady Finchley, the sister to Hugh Dunne, the Earl of Briarly, decides to throw a party at her country house inviting the most eligible young ladies. Hugh has decided that it is high time to get married after recently being close to death. He has asked Carolyn to help him find a suitable wife. Carolyn not only plans to match make for her brother but for her best friend Georgina too, who was widowed young. Not two, but three couples find love at this country party.
I don't usually read anthologies but this one caught my eye with the great list of authors participating. I really liked that all three stories were related by taking place at the country party and involved all the same characters. There are three distinct couples who find love at this party. I am not going to go into specifics because part of the fun of reading the book is discovering who ends up with who.
I felt that the stories flowed seamlessly together to where I would not have been able to identify the different authors if not for the labeling at the top of the page. I did however feel that the character Hugh's personality went from mildly appealing to greatly appealing by the end of the story. I like the direction the author's took his character and I enjoyed his romance the best. I thought all three stories were fun to read, but not overtly exceptional. This anthology is just a nice way to pass the time and I enjoyed the three sweet stories.