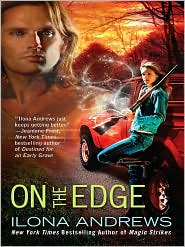 Title:
On the Edge
Author:
Ilona Andrews
Publishing Date:
2009
Genre:
Paranormal
Rating:
B+
Sensuality:
Warm
Book Disclosure:
I received a used copy from Paperbackswap.com
On the Edge
is the first in a new series by Ilona Andrews. Rose Drayton lives in The Edge. It is a narrow strip of land that divides our world, known as The Broken and the magical world, known as The Weird. Rose can cross over to the Broken. She holds a job there to support her two young brothers. However, Rose has never entered the Weird. Even though her magic is strong in the Edge she is afraid to cross over to the Weird where it might not be strong enough.
Rose is quite a prickly heroine. She has good reason. She is living on the edge of poverty, the guardian to two rambunctious boys and has lived through attempted abductions from people wanting to use her as a brood mare. You'll have to forgive her for not extending trust to anyone who comes her way. One such traveler finds himself at the mercy of that attitude when he stumbles into her front yard.
Declan and Rose work together to fight an evil army that has been infiltrating Rose's small world and threatening her loved ones. Regardless of whether or not Rose wants Declan's help, she can't turn him away all the while fighting her attraction to him. This book is chock full of sexual tension. Declan and Rose fire up the pages. The world building is very creative and thorough. If readers can get past Rose's prickly disposition they are in for a treat. Ilona Andrews has written an intense story that fantasy fans will find hard to put down.