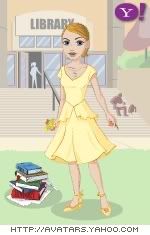 I was tagged for this meme by
Jace
Four jobs I've had:
1. Cashier at a grocery store
2. Technician at a walk in clinic
3. Quality Control Manager
4. Biological Scientist (Yep, I'm a nerd)
Four movies I've watched over and over:
1. The 40-Year Old Virgin
2. Office Space
3. Father of the Bride
4. Groundhog Day
(I could actually list about 20 movies)
Four places I've Lived:
1. Cocoa, Florida
2. Clearwater, Florida
3. Greensboro, North Carolina
4. Winter Haven, Florida
Four shows I watch:
1. America's Next Top Model
2. The Ultimate Fighter
3. Celebrity Rehab
4. Lost
Four Places I've Been:
1. Las Vegas, Nevada
2. Philadelphia, Pennsylvania
3. San Antonio, Texas
4. Boone, North Carolina
(I have never been outside the United States)
Four Things I Love To Eat:
1. Bacon (You know the show Fear Factor and how they try to get you to eat gross stuff like bugs. I say wrap it in bacon and I will eat anything.)
2. Blue Cheese Dressing
3. McDonald's french fries
4. Girl Scout Cookie - I like them all!
Four Places I'd Rather Be:
1. My house, in bed with a book.
2. The beach, with a book.
3. The local library
4. I see a pattern here. Anywhere, as long as I can read!
Four Things I Look Forward Too:
1. Watching my children grow up and have kids of their own.
2. My Retirement
3. Dinner (everyday of my life)
4. Settling down with a good book (of course)
Hmmm, who hasn't been tagged yet? Nath...how about you?