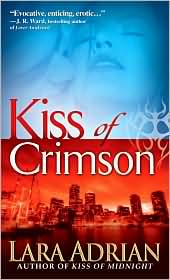 Title:
Kiss of Crimson
Author:
Lara Adrian
Publishing Date:
June 2007
Genre:
Paranormal
Rating:
B-
Sensuality:
Hot
Kiss of Crimson
is the second book of the Midnight Breed series. It is the story of the warrior, Dante, and his destined breedmate, Tess Culver. Dante stumbles into Tess's veterinarian clinic after he is viciously attacked by Rogue vampires. His injuries are life-threateningly serious and he needs major help. After he takes her blood, because it is essential to his healing process, he discovers she is a breedmate. He now realizes that he has forced a blood bond on this woman who he knows nothing about.
Dante and Tess are likable characters. I don't think that there is anything groundbreaking with their relationship. I would have liked for there to have been more development between Dante and Tess's relationship. The "happy ever after" seemed abrupt and forced at the end of the story. I felt like the reader was left hanging with a couple of issues that Tess had with Dante, such as whom and what he was. I felt that it was glossed over and never dealt with properly.
What I did really enjoy about
Kiss of Crimson
better, was the new turn of events in the war against the Rogues. Adrian has done a good job with the plot in not only keeping the story continuing, but keeping it interesting as well. A new drug in the club scene, Crimson, has young vampires turning Rogue. This new change, along with a couple of new characters, add to the appeal of this plot. I am looking forward to seeing what she has in store for her readers in her next book, which is Tegan's story.
Here is what others had to say:
Jace Scribbles
LesleyW's Book Nook
&nbsp