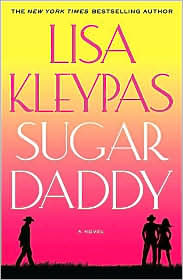 Title:
Sugar Daddy
Author:
Lisa Kleypas
Publishing Date:
March 2007
Genre:
Contemporary
Rating:
A
Sensuality:
Hot
Sugar Daddy
is the story of Liberty Jones. It is told in the first person from Liberty's point of view. She and her mother move to the small town of Welcome, Texas when she is fourteen years old. She meets the handsome, capable Hardy Cates. With his piercing blue eyes and lean athletic body, she quickly develops a crush on him. He is seventeen years old, with a fierce yearning to leave the town behind and make something big happen for himself. He vows never to indulge in his longing for Liberty and strives to keep his distance from her or he knows he will never leave Welcome. I will leave the plot description to a minimum as to not give away too much of the story.
I absolutely loved this book. Liberty is a fantastic heroine. She is the type of person you want to root for every step of the way. She is a strong fighter and yet she is vulnerable and generous too. In her life, she encounters many harsh problems and I felt the despair right along side Liberty. Some moments were absolutely heartbreaking. These obstacles in her life are what make her so strong and when she does triumph, it makes the victory all that much sweeter.
The hero of this book (and I'll not say who it is as to not give away the ending) is a great match for Liberty in every way. He has to be one of the top heroes in romance, in my opinion. He is strong and protective; a man's man if you will. He wants to take care of Liberty and provide her with the things she didn't have when she was younger. He is also caring and understanding of Liberty's problems and wants nothing more than to give her whatever she needs to be happy. I loved the ending of this book and I couldn't be happier with the choice Liberty made.
Here is what others had to say:
Dear Author
Renee Reads Romance
Reading Adventures
What Kate's Reading
The Good, The Bad, The Unread
The Book Smugglers
Ramblings on Romance