&nbsp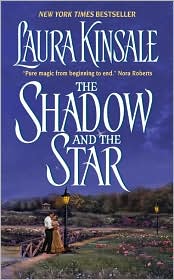 Title: The Shadow and the Star
Author: Laura Kinsale
Publishing Date: 1991
Genre: Historical
Rating: A
Sensuality: Warm

Samuel Gerard does not know of his family origins. He suffered horrible abuse as a child before he was rescued by Lady Ashland. He grows up in the Ashland's house in Hawaii and is trained in the martial arts by Dojun, a Japanese servant of the Ashland's. The Ashland family, along with Samuel, travel to London for the celebrations of Her Majesty's Jubilee. There, while aiding his foster sister and mother in a dress shop, he meets Leda Etoile. She also grew up an orphan and was adopted by the prim and proper Miss Myrtle. Misfortune abounds for Leda and she winds up destitute. Samuel offers her a position as his secretary. (I have left out a few details in this summary, as to not give anything away).

The Shadow and the Star is an absolute gem of a story. I really liked both Leda and Samuel. Leda binds herself to the rules of society in rigid extreme. Throughout the whole book, she tries very hard to stay true to these mannerisms and never stray from the strictest etiquette. She is also very innocent and has been sheltered considerably in her lifetime. Never has she spent much time in men's company. (She is one of those heroines who doesn't know how babies are made, nor can she identify certain parts of the male anatomy). This aspect of her personality is very believable and crucial to her character. I don't think the author could have written it any other way.

Samuel, himself, has never been with a woman. He too, in certain aspects, is just as innocent as Leda. Samuel is so disciplined that he has never acted on his own sensuality. He is twenty-eight when he meets Leda. She provides a distraction unlike any other that he has ever encountered before and he finds himself losing control over his mind and body. I loved how little ol' prim and proper Leda gets under the skin of tough, disciplined Samuel. I absolutely love it when the hero falls, and falls hard, for the heroine.

The sad part of this story though, is that Samuel feels that he is undeserving of Leda's love. They both have a bit of a martyr vibe going on, but Kinsale never takes it to the point where I want to throw the book at the wall. It did get a little too close at the end, but the heroine really pulled through for me. She grows a bit of a back bone and does not let Samuel bully her. Yay!!!

This story is not only great because of the characters, but for the exotic location and people as well. The reader is truly immersed in this unusual culture. Parts of the story take place in Hawaii where the locals speak Pidgin. This gives a very authentic feel to the story. Kinsale also intertwines Japanese history and culture into the tale of Samuel's training as he goes from being a boy to becoming the shadow warrior. I loved this story and I highly recommend giving it a try.