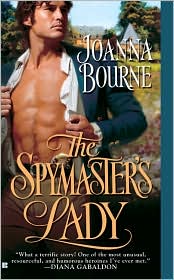 Title:
The Spymaster's Lady
Author:
Joanna Bourne
Publishing Date:
January 2007
Genre:
Historical
Rating:
A
Sensuality:
Warm
Annique Villiers is a renowned French spy, known as the Fox Cub, who has been captured by another French spy, Leblanc. In his dungeon, she encounters Robert Grey and Adrian who are British spies that have been captured by Leblanc as well. Adrian has been shot and is wounded in his shoulder. His life hangs in the balance. Annique helps both Robert and Adrian escape Leblanc, who is a particularly nasty character. Grey recognizes Annique and believes that she had something to do with the death of his men. After she helps him escape, he returns the favor by capturing her, with the intent of questioning her to find out what happened to his men.
First off, let me say that I am not a big fan of spy novels. I hate all the subterfuge and deceit that takes place in these types of books. Having said all that, I absolutely loved
The Spymaster's Lady
. The top reason is because of the heroine, Annique. She is the perfect balance of strength and determination intermingled with an innocence and vulnerability. It is amazing to me that with the life she has lived, that she is able to take pleasure in the little things and hasn't become cynical and jaded. This book is heroine-driven, so more time is devoted to getting to know Annique. For those readers who like to focus on the heroine, this is definitely the book for you.
Don't get me wrong, though. Robert is a strong hero and, even though he is not the main focus, he is still thoroughly developed. I liked his character and thought he was a good match for Annique. She needs a strong, intelligent man and he definitely fits the bill.
Bourne has the amazing ability to develop the characters so strongly that even when they are acting out one of their spy personas, we can see the subtle nuances of each personality; with the way they talk or with body language, etc. This was just so very, very clever and fascinating to read. There are quite a cast of secondary characters, none of whom seem one-dimensional. One of my favorites is Adrian and I hope he gets his own story.
There has been much talk in romance land about this book and all of it good. I don't believe I have come across a negative review yet. If you haven't read this book yet, what are you waiting for?
Here is what others had to say:
Dear Author
The Book Smugglers
Jennie's Book Log
Cupid's Chokehold
Ramblings on Romance Etc...
Dear Author
(Janine, an opposing review)