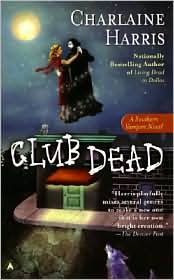 Title:
Club Dead
Author:
Charlaine Harris
Publishing Date:
2003
Genre:
Urban Fantasy (Mystery)
Rating:
B+
Sensuality:
Warm
Book Disclosure:
Received as a gift from a co-worker for my birthday
Club Dead
is the third book in Charlaine Harris' Southern Vampire Mystery Series featuring Sookie Stackhouse. Bill is working on a secret project. He is required by his Queen to take a trip and ends up kidnapped by the King of Mississippi. Eric comes to Sookie with a plan to rescue Bill, but Sookie will have to go undercover and see what she can learn by reading the minds of humans working with the Mississippi vampires. Alcide, a werewolf who owes the vampires a favor is tasked with keeping Sookie safe. He also provides a way for Sookie to get close to the Mississippi vampires.
In
Club Dead
I was slightly frustrated with Sookie and Bill. Sookie was quick to believe the worst in Bill. I was surprised that she took what Eric told her at face value instead of waiting until she had the facts straight from Bill. And then there is Bill. I was a fan of Bill, but now I am not so sure. His behavior in this book was very strange. Since the story is told from Sookie's point of view the reader doesn't really know why Bill acted the way he did. It was touched on very briefly, but I would have liked an in depth explanation from Bill. It could have been just a way for Harris to further Sookie's relationship with Eric. At this point, I might be rooting for Sookie to hook up with someone more "alive".
What I really enjoy about Sookie is she is just such a refreshing character to read. She has a really big heart, and is very loving and soft, but cross her or show bad manners and be prepared to be knocked down a peg or two. When backed into a corner she comes out fighting.
Ms. Harris does a great job of creating diverse and very intriguing characters. Her writing is vivid and descriptive. My personal favorite was Bubba. I don't want to spoil it for those of you who haven't read the book. Let's just say he is a famous character. Readers will love immersing themselves in the world she has created. I for one, easily finished this book in a day. I can't wait to see where Sookie is headed for her next adventure.
Here is what others had to say:
Avid Book Reader
J. Kaye's Book Blog
Thrifty Reader
The Book Smugglers
This book can be purchased in print or kindle format at
Amazon
.