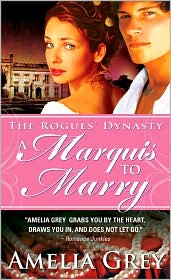 Title:
A Marquis To Marry
Author:
Amelia Grey
Publication Date:
October 2009
Genre:
Historical
Rating:
C-
Sensuality:
Hot
Book Disclosure:
Received an ARC from Sourcebook's publicist
A Marquis To Marry
is the second book in Amelia Grey's The Rogues Dynasty Series. Ever since the announcement of his inheritance from his grandmother of the famous Talbot Pearls, the Marquis of Raceworth, known by his friends as Race, has been getting bombarded with all kinds of inquiries. The most surprising is when he gets a visit from the Dowager Duchess of Brookfield. He has never met the Duchess and is surprised to learn that she is not old at all, but beautiful and about the same age as himself. As he meets with her in one of his sitting rooms he discovers that she believes him to be the wrongful owner of her mother's famous Talbot Pearls. She all but accuses him of stealing them from her family.
This series focuses on three cousins Lucien the Duke of Blackwell, Alexander the Marquis of Raceworth and Lucas the Earl of Morgandale. I didn't read the first book, which was about the Duke. There were a few times he and his duchess or past events were alluded too in
A Marquis to Marry
. I didn't feel lost, but I knew there was more to the story than I was given.
The biggest issue I had with this book was that it was boring. There was a lot of internalizing done by both Race and Susannah which slowed the momentum of the story down. I would have rather had the characters act than think. Race seemed to be more impulsive with his judgement and behavior than Susannah, who was much more refined with expressing her passion. The characters where enjoyable, I just would have liked to have seen more action.
A Marquis To Marry
also had a screwball comedic feel to it. There is a secondary plot involving Race's good friend Gibby. Gibby is an older gentleman in his sixties who is called out to a duel for dishonoring another man's spinster sister. When asked his choice of weapon, Gibby chooses fists. So, two men who are not in their prime are going to have a boxing match. Seemed a little silly to me and I am sure this was the point. While I enjoyed Gibby's character, I am not really a fan of silliness. From what I could garner, Gibby has a habit of getting into scrapes and the cousins have to bale him out. I believe something similar happens in all the books. At least that was my impression.
Here is what others had to say:
The Book Girl
Love Romance Passion
A Hoyden's Look at Literature
Maymay's Memos
Anna's Book Blog
This book can be purchased in print format from
Amazon
.