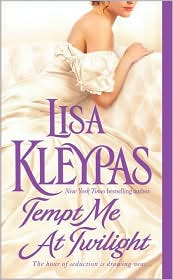 Title:
Tempt Me at Twilight
Author:
Lisa Kleypas
Publishing Date:
2009
Genre:
Historical
Rating:
A-
Sensuality:
Hot
Book Disclosure:
Rented this one from
Paperspine
Tempt Me at Twilight
is the third book in Lisa Kleypas' Hathaway series. Poppy Hathaway is almost finished with her third season. She feels confident that she and Michael Bayning are going to marry, just as soon as he tells his father. Michael is afraid his father won't approved of Poppy because of her less than normal family and less than blue blood. To complicate matters, Harry Rutledge the owner of the famous Rutledge Hotel wants Poppy for his own. Poppy has a way about her which Harry finds refreshing and surprising and not much surprises Harry anymore. What Harry wants Harry gets and he proceeds to come between Poppy and Michael.
It's no secret that I love Lisa Kleypas. She is easily one of my top five favorite authors. I didn't really have any big expectations going into this book, other than the fact it is written by Kleypas and was hoping for a good story. When I first started reading about Harry, I was worried that he wasn't good hero material. He is a ruthless man, cold and calculating, willing to do whatever is necessary to get what he wants. Even though I didn't like several underhanded things that he does to Poppy, I liked that he was upfront about who he was and doesn't apologize for his behavior.
The true beauty is that Harry slowly evolves from a villain to hero, all through his love for Poppy. Poppy really surprised me. In the previous books in this series, she hovered in the background and really didn't leave an impression on me. In this book she shines, though. She is sweet natured and wants nothing more than to live a peaceful and simple life. Her life is anything but that with the Hathaway's as her family. Then once Harry barges in and takes control she realizes that she is going to have to assert herself or Harry will walk all over her. She does this with grace and compassion.
Tempt Me at Twilight
really is a lovely story. I love the family dynamics between the Hathaway's. This time we get more snippets between Leo and Ms. Marks, Leo with Poppy and Poppy with Beatrix. Kleypas truly give the reader a sense of kinship with these characters. This is a great series and is one that should reside on your keeper shelf.
Here is what others had to say:
Book Binge
The Book Smugglers
Dear Author
The Good, The Bad, The Unread
Happily Forever After
Lurv a la Mode
Impressions of a Reader
Book Pushers Anonymous
Romance Book Heaven
This book can be purchased in print or kindle format from
Amazon
.