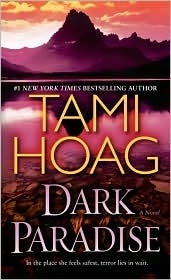 Title:
Dark Paradise
Author:
Tami Hoag
Publication Date:
1994
Genre:
Suspense (with romantic elements)
Rating:
B
Sensuality:
Hot
Book Disclosure:
I bought this book from a used book store several years ago. I am just now finally reading it for Keishon's
TBR Challenge
.
Marilee Jennings is fed up with trying to please everyone but herself. She was a court reporter for several years and she just recently quit her job and broke up with her boyfriend. She wants to take some time to decompress and find out what direction she wants to go with her new life. Her friend Lucy moved out to the small town of New Eden, Montana. Marilee knows Lucy will be supportive of this decision and she leaves California behind with high hopes. When she gets to Montana she discovers that Lucy was killed in a hunting accident and Marilee is her heir. Marilee is shocked by this change of events, to say the least. The longer Mari stays in New Eden, the longer she believes that Lucy was involved with something illegal. Mari is determined to get to the bottom of things.
Dark Paradise
is so much more than just a suspense story. It is a story about people learning to deal with the crap life throws at you. To learn how to pick yourself up, dust yourself off and keep going. Hoag knows how to pen realistic and sympathetic characters. She grabs the reader and hooks them into the story with these characters. At certain times the reader is going to be so frustrated and want to throw something at J.D's stubborn head or roll their eyes at Will's childish antics. Great connection with the characters, whether it's a positive or negative reaction is what makes this book such a strong read.
Even though this is a straight suspense, there is quite a bit of romance to it and I was surprised. I wasn't expecting that. Mari and J.D.'s romance unfolds slowly. At first, J.D. is more like an anti-hero. He tries to scare Mari off, mainly because he is attracted to her and doesn't like that he feels attracted to her. Mari stands her ground and doesn't let him bully her. She is the right mixture of spit-fire and vulnerability. I really liked her character. J.D. was harder to like because he is so angry about everything.
Where the story falters a little bit for me is this book comes in at 528 pages. It was a long book with a lot of characters narrating the story. Mari and J.D. spend some time contemplating their feelings for one another and some of it seemed repetitive. Also, there is a secondary romance between Will and Samantha, which I liked very much. After the conclusion to the suspense portion of the story, I wish Hoag would have come back and cleared up a few things with Will and Samantha. Something big happened to them, but their reunion happens off page and it would have been nice for the reader to experience this directly through the characters themselves. Other than that, for fans of suspense, I would definitely recommend
Dark Paradise
.
This book can be purchased in print or kindle format from
Amazon
.