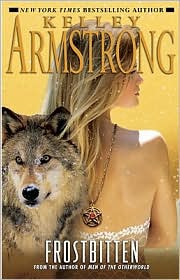 Title:
Frostbitten
Author:
Kelley Armstrong
Publishing Date:
October 2009
Genre:
Urban Fantasy
Rating:
B+
Sensuality:
Warm
Book Disclosure:
Checked it out from the library.
Frostbitten
is the eleventh book in Kelley Armstrong's Women of the Otherworld series. Elena Michaels finds herself chasing down a mutt across the wilds of the Alaskan wilderness. What seems a simple mission at first, takes a deadly turn when Elena discovers half eaten dead bodies. Not only is she dealing with these grizzly murders, but she is also dealing with ghosts from her past and Jeremy's choice for new Pack leader, her. I strongly recommend reading this series in order and you can find more information about the series reading order from this
post
.
Just when I begin to wonder if there could be more to Clay and Elena's story, Kelley Armstrong is able to prove that indeed there is. Clay and Elena have been together for years now. Followers of this series have seen these two come a long way in terms of their relationship, which definitely started out on rocky terms. Clay and Elena got their "happily ever after" and are living it, but fortunately for fans their story didn't end there.
Elena has issues from her past which come to light in
Frostbitten
. Elena is back to narrating the story just like she did in
Bitten
and
Stolen
. Fans of those first two books will also really enjoy this one. Armstrong does a wonderful job of adding angst to the story while tying it into the mystery portion of the book. Elena works through these problems in her own way and this only showcases just how strong Elena truly is. I think readers are going to see a new side to Elena. One that they will like.
Frostbitten
adds a new dimension to the supernatural world. New creatures are discovered, more mysteries are solved. There are some very suspenseful moments that had my heart pounding. I must say I found the Wendigo quite interesting and wonder if they will appear in any future books. All in all, I would say this is another excellent addition to the series.
Here is what others had to say:
Book Pushers Anonymous
Book Chick City
Love Romances and More
My Favorite Books
The Book Sanctuary
This book can be purchases in print or kindle format from
Amazon
.