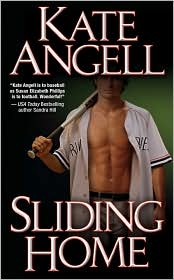 Title:
Sliding Home
Author:
Kate Angell
Publishing Date:
September 2009
Genre:
Contemporary
Rating:
B
Sensuality:
Warm
Sliding Home
is one of Kate Angell's Richmond Rogues books. Kason Rhodes plays left field for the Richmond Rogues, a professional baseball team based in Richmond Virginia. For the last six weeks he has been down in Florida spring training. He comes back to his trailer to find that someone, a woman has invaded his home and been living in it. Dayne Sheridan is trying to pick up the pieces of her life after being dumped on air by her former DJ boyfriend. With hardly anything to her name, the abandoned mobile home seems like the perfect place for her to heal and rebuild her life.
Kate Angell's writing is very breezy and light and
Sliding Home
is no exception. It is what I would call the quintessential beach read. There are no heavy conflicts needing to be resolved. The characters are normal, down-to-earth people and are fun to read about. Their situations mirror real life and they deal with common problems most of us face in our own lives.
I really enjoyed reading about Kason and Dayne. Kason is a loner and most people at first glance would think him a bruiser or criminal. He really is stand-offish with most people but for some reason Dayne has the gift to get under his skin. She has a quiet strength that draws Kason to her like bees to honey. There is a secondary romance between the Rogues' publicist and first baseman Rayden Dunn. Theirs is a cute story and it doesn't take away from Kason and Dayne.
This book is not breaking any new ground, but it's fun and entertaining. If you are looking for something to really sink your teeth in, this book is not it. If you want to pick up something light for a quick escape, then I recommend it.
Here is what others had to say:
Another Book on the Stack
This book can be purchased in print or kindle format from
Amazon
.