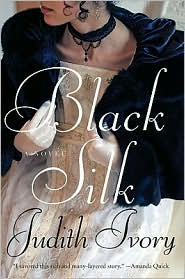 Title:
Black Silk
Author:
Judith Ivory
Publishing Date:
1991
Genre:
Historical
Rating:
B-
Sensuality:
Hot
Book Disclosure:
Received a used copy from
Paperbackswap
. Chose to read the book for
Jessica's book discussion
over at Racy Romance Reviews.
Submit Channing-Downs finds herself widowed after a wonderful marriage to a much older man, Henry the Marquess of Motmarche. She has been asked by Henry to gift his nephew, Graham Wessit the Earl of Netham, whom he had a falling out with several years back, a little black box filled with illicit drawings. Submit is puzzled over the reason why Henry would have her give such a thing to his nephew. Eventually, Graham and Submit form a strange friendship. Also, the will that Henry wrote is being contested by Henry's illegitimate son, William as all of Henry's land and wealth were given to Submit and William is unwilling to accept this.
There is no doubt in my mind after reading
Black Silk
that Ivory is a skilled and often poetic author. She makes it seem to easy and effortless too. With her words she creates vivid, imaginative scenes that so clearly paint themselves in readers' minds. Yet, I found
Black Silk
to be a depressing story with two main characters who were almost too damaged to be likable.
Submit is a young widow, but acts much older than she really is. She was married at sixteen and never had a chance to be a silly young girl. She was groomed to be a gentleman's wife and that is all she knows. She took on many of the stuffy characteristics of her former husband. He basically shaped who she has become, which is a judgemental, contained woman. Graham is very frivolous in comparison. He is very social, throwing elaborate house parties. He drinks, gambles and has relationships with married women. He wears an abundance of elaborate jewelry and expensive flashy clothing.
I felt sorry for Graham much of the story as he so desperately wants someone to love him unconditionally. He seeks approval from Submit and she keeps holding him off, turning her back on him. I found their relationship frustrating. I felt like there was this unresolvable sense of doom for them. I couldn't see how this would end well. Then the last pivotal scene really surprised me. It was so upbeat and had a feeling of lightness. It really is a testament to Ivory's skill as a writer. I have reservations recommending this one. It is a slow story, but one not without merit.
Here is what others had to say:
Racy Romance Reviews
(not a review, but a discussion)
Dear Author, Part 1
Dear Author, Part 2
Lusty Reader
Phyl's quilts & books
This book can be purchased in print or kindle format from
Amazon
.