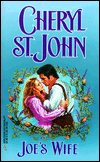 Title:
Joe's Wife
Author:
Cheryl St. John
Publishing Date:
1999
Genre:
Western
Rating:
B+
Sensuality:
Hot
Book Disclosure:
Received a used copy from
Paperbackswap
.
Meg Telford's husband died while fighting in the Civil War. She refuses to give up their farm. Knowing that she has no hope of keeping it unless she marries, she proposes to Ty Hatcher. Ty recently returned to Aspen Grove after fighting in the War. He was always ostracized by the townsfolk because he never knew his father. One of the only citizens who were ever nice to him was Meg. She always had a smile for him even though others shunned him and now she is asking him to marry her. It was a dream come true, until he realized he would be filling a dead man's shoes.
Joe's Wife
was an absolute treat to read. It is one of those stories where the reader easily gets lost in the characters. Meg is grieving the loss of her husband and doesn't want to give up his dream - which was to make a success of their farm. Joe wants to prove to the townsfolk that he is worthy of their respect even though he is technically a bastard. Meg and Joe start off their marriage as one of convenience but eventually come to love one another. It is a beautiful journey between two people learning to come to terms with who they are and their new life together.
Leslie
has written a really wonderful
review
, which influenced me to read this book. I just would like to point out one thing in addition to what Leslie said. I really appreciate that the love scenes are integral to the development of Meg and Joe's relationship. They are sensual, yet they are pivotal in moving the relationship forward. I love how Meg and Ty work through their problems. Even though the sex is great, they eventually have to talk about it! If you are in the mood for a wonderful Western or Marriage of Convenience, don't miss this one!
Leslie's Psyche
Impressions of a Reader
This book can be purchased in print format from
Amazon
.