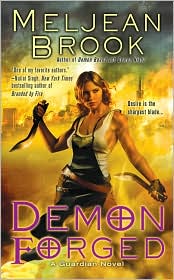 Title:
Demon Forged
Author:
Meljean Brook
Publication Date:
September 2009
Genre:
Paranormal
Rating:
B+
Sensuality:
Hot
Book Disclosure:
I won this in a contest hosted by Tracy of
Tracy's Place
(Thanks Tracy!).
Demon Forged
is the fifth book in Meljean Brook's Guardian Series (that's if you don't count the anthologies). Irena and Alejandro are Guardians who have been protecting mankind from Demons. They have a past history together and can't seem to make their friendship/relationship work. Many centuries have passed and they still harbor feelings for one another but neither Irena nor Alejandro can seem to get past their pride to make things work. Now, Irena and Alejandro are being forced to work together to stop a deadly prophecy from becoming true.
I think that so far
Demon Forged
is the most well written book of this series. However, it was not my favorite and I'll tell you why. But, first let's talk about what I really enjoyed. First of all, the world building is just phenomenal. Brooks really blows me away with her attention to detail and the well planned out plotting. Where she is going with this series? That I am not sure, but it's perfectly clear that she knows and that is what's important. Things are really starting to heat up between the Guardians and the Demons. Both sides are taking hits and things are super tense. At certain moments, I found myself on the edge of my seat.
Also, I was very intrigued by some of the secondary plots. I was especially enamored with the goings on between Michael and Taylor. I can't wait to see where that ends up! This brings me to the main romance between Irena and Alejandro, I wasn't super crazy about these two. I hate that they went some 500 years, unable to work through their problems because of pride. It just makes me question why it took them so long to let go of their issues and actually try to work things out. I will say 500 years of sexual tension sure does lead to some pretty steamy make-up sex. It was also obvious to me that these two were meant to be together. I just wanted to be like, "Get over it already!" But actually, this was pretty minor offence even though it doesn't sound like it. I did really enjoy reading this book and I can't wait to read more of this series.
Here is what others had to say:
Errant Dreams Reviews
The Book Smugglers
Alpha Heroes
Dear Author
Book Binge
Rosario's Reading Journal
This book can be purchased in print or kindle format from
Amazon
.